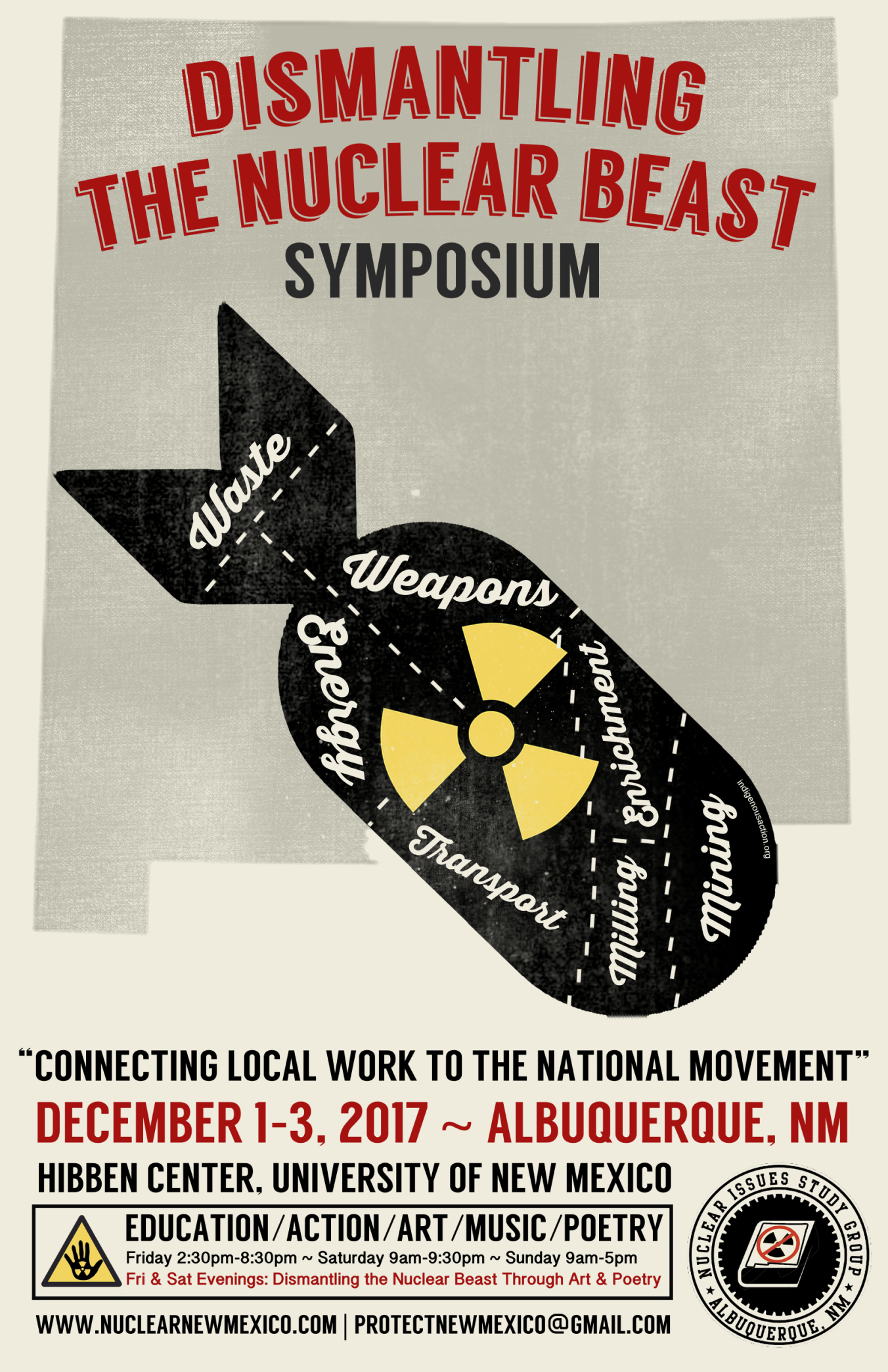 About Nuclear Issues Study Group
It is no secret that New Mexico has been and continues to be greatly impacted by every link of the nuclear fuel chain. The Nuclear Issues Study Group, founded in 2016, is a grassroots organization run entirely by volunteers and is based in Albuquerque, New Mexico. We meet regularly, and our membership comes from local New Mexico communities, including: organizers, young people, indigenous peoples, people of color, the LGBTQ community, students, artists, activists, and people who care about our water, lands, air, and public health. We work on several projects, as well as support local, statewide, and national campaigns to protect New Mexico from all things nuclear.
As part of this effort, we are organizing a symposium titled "Dismantling the Nuclear Beast: Connecting Local Work to the National Movement". The symposium will take place Friday, December 1st through Sunday, December 3rd, 2017 at the Hibben Center on the University of New Mexico campus in Albuquerque.
About the Symposium
From uranium mining and enrichment to weapons production and nuclear waste storage, we are quite literally in the "belly of the beast". In order to make information accessible and to get others involved, we will have several presentations, panel discussions, and information tables focusing on all of these topics. We are inviting speakers from all over New Mexico and the country to share their stories, their work, and how we can take action to protect our environment and our communities!
We will kick off our symposium with a special collaboration between NISG and the New Mexico Chapter of the National Association of Social Workers (NASW) on Friday afternoon. This opening workshop, dubbed "Environmental Justice: Nuclear Colonialism, Social Work, and Our Future in NM", will provide an overview of the many nuclear sites in our state and make connections to the field of social work. Specifically, we will cover recent environmental justice issues specific to the misuse of water, natural resources, and sacred places, as well as the disproportionate occurrence of nuclear facilities in communities of color and lower socioeconomic status (SES). To wrap up this workshop, NASW NM will facilitate a discussion on the Social Work Code of Ethics, vulnerable populations, and paths to advocacy and action. If you are a social worker or student of social work, click here to register online with the NASW NM Chapter to obtain your continuing education units (CEUs).
During the symposium, we will do our best to explore and expose every aspect of the nuclear fuel chain—past, current, and future—as well as highlight some key threats to New Mexico that NISG is focusing on including: Sandia National Laboratories' Mixed Waste Landfill and the proposed Centralized "Interim" Storage of high-level radioactive waste.
The purpose of our symposium is as follows:
To make information about nuclearism & nuclear colonialism accessible to the general public; this includes being intentional about avoiding the use of jargon, acronyms, and other forms of language (such as "Nukespeak") that alienate rather than attract new people to the movement
To help bridge gaps of knowledge between the different aspects of the nuclear chain, specifically those who work on uranium mining issues and those who work on issues of nuclear waste, transportation, weapons, and power
To incorporate and have a solid space for Art, Music, Film, and Poetry in this movement
To unite and promote solidarity in our struggles by bringing communities together in New Mexico, right here, in the "belly of the beast"
To bring a new generation into the anti-nuclear movement
To equip attendees with tools to act on their increased knowledge about nuclearism & nuclear colonialism in positive, concrete ways and to get involved locally & nationally.
Support the Symposium
In order to make this event a success, we are calling on you and our extended community to make a monetary donation to assist with the expenses of our symposium. Our fundraising goal is $5,000.00 and costs include: venue rental, speaker fees, travel, food & beverages, printing, and professional services. We are determined to minimize the expenses for this event by garnishing in-kind services and other donations, but still have quite a bit of funds to raise.
Donate securely online directly to NISG via PayPal (credit, debit, PayPal).
You may also mail or hand carry your donation to the Indigenous Rights Center mailbox, located inside the Albuquerque Center for Peace & Justice (SE corner of Harvard & Silver).
Indigenous Rights Center
202 Harvard Dr SE #5
Albuquerque, NM 87106
Thank you for your support.
For More Information